Delivery
Shipping and returns
Shipping

USPS:  We apologize but Bayou Witch Incense does not ship C.O.D.  All orders in the continental United States are shipped United States Postal Service (USPS).  This means that once the items leave our dock, it is the agent (USPS) who is responsible for the safekeeping of your package.  Shipping rates are based on the weight of the packaged order, include marginal handling and packaging costs, and may include insurance/delivery confirmation costs if applicable.  USPS orders are not guaranteed by a certain day, but USPS does indicate that Priority Mail does arrive in 2-3 days.  Late deliveries cannot be reimbursed if this option is selected.  You can use the tracking number that is sent to you (a copy is also in your account when it ships) to track your package on our website.  If you wish to OPT OUT OF THIS SERVICE, please indicate so in your order notes.  Multiple box shipments sometimes arrive a day apart and may incur additional shipping charges.  Give the packages at least 1 extra day to arrive before calling for a tracer.   Priority Mail usually takes about 2-3 days for delivery and USPS orders depend on your zone. 

Please refer to the following map for USPS transit times.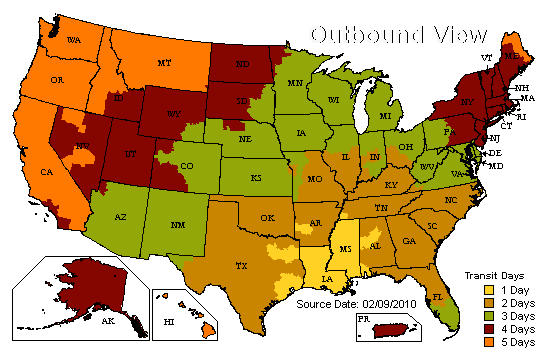 Delivery
See our shipping page for the estimated USPS ship time to your area.  Please do not miss your delivery.  If the carrier is unable to make delivery for any circumstance other than our error, you will be responsible for the cost of re-shipping your package.  Any packages returned to us due to customer refusing delivery will be billed for the shipping charges incurred, plus a 20% restocking fee unless refused due to an error on our part.
Damaged Shipments
If your package does not arrive in acceptable condition, DO NOT ACCEPT it from the carrier.  If you accept the damaged package from the courier you may be responsible for the return shipping cost.  Goto https://www.usps.com/help/claims.htm IMMEDIATELY if there is any damage, spillage or breakage -- they may return to pick the package up.  Contact us as well so that we can open up a claim and track its progress.  All packages typically leave our business in good condition, but damages can still occur, even during transit.  Oftentimes, a portion of the package is delivered and the damaged items thrown out.  In this case please contact us for a claim and to reship the damaged items.  Other times, the entire package may have been damaged, discarded or returned.  In these instances, we will reship another package and open up a claim.  Any reimbursements if applicable will follow a few days later, usually once the claim is closed.
All other merchandise returns accepted only within 7 days of receipt.  Returns must be approved, please call or e-mail bayouwitchincense@hotmail.com for authorization.  Unless our error, a 20% restocking fee will apply to all returns of NON-fragrance oil items to  fees, labor incurred, etc and 75% restocking fee will be charged to unauthorized returns of fragrance oils to cover the same as well as the now unusable fragrance oils.  Approved returned merchandise must be received in proper packaging and in good condition to be accepted.  IF ITEMS ARE NOT RECEIVED IN RE-SALEABLE CONDITION, THEY MAY NOT BE ACCEPTED.  Unless due to an error on our part, customer is responsible for shipping on all returns.  In-store credit only, no cash refunds are given unless shipment was our error.  Do not send new orders with returned items for an exchange!  Doing so might delay your order, as returns are unpacked in the order they are received.  You will be notified when we receive your return, and then you can use that store credit on a new order.
Bayou Witch Incense is a fragrance company.
It is in the best interest of fragrance companies and their customers to ensure that they DO NOT accept returns as a policy.  One may wonder why this is so, however a fragrance company cannot guarantee the oil or incense arrives in the same condition it left, free of foreign substances and with the integrity of the oil intact.  Therefore it is unusable and not saleable.  Any testing for purity would be far too costly.  The only way to do this is to NOT accept returns at all, unless fully authorized.  This is to ensure the freshness of each fragrance oil and incense.  Errors and authorized returns are either replaced or fully credited back to the customer, shipping included.  Fragrance oils are not returnable under any circumstances, unless shipped by error on our part.  This policy is non-negotiable.
When is a return authorized?
If and only if it is our error AND we need it back for testing.  This is extremely rare.  For the most part, customers keep the oils and just receive a replacement, credit or both.  We know you work hard for your money, so protect yourself and spend it on something with which you are sure to be happy.
We feel our products will make both you (and your customers) happy, enthusiastic and coming back for more!